Custom Car Paint in Arlington, Texas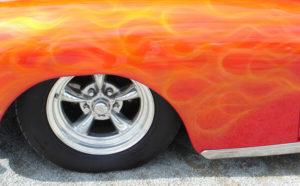 Turn to us for custom car paint in Arlington, TX. Our professional auto paint techs will help customize your car, SUV, RV, motorcycle, van, or motorcycle. Free quotes.
If you want custom car paint jobs done right, you should consider the professional painting technicians at City Collision Center. Not only can we paint autos, SUVs, trucks, and vans, we can also offer custom paint jobs for RVs and motorcycles.
Express your creativity, get ready for an auto show, promote your business brand, or simply spruce up your ride with a custom auto paint job from us. We offer all sorts of custom car paint options. Why don't you contact us today to let us know what you have in mind? No paint job is too large or too small for our auto paint shop. In fact, we can handle everything from detailing to graphics to full-body restoration and art cars.
We'll be happy to provide you with a free estimate and help streamline insurance claims. We've been offering custom, repair, and renovation painting for Arlington vehicles for over a decade, and we can paint your car too. Contact us today for a quick price quote and to let us know what you've got in mind.
Car Paint Repair
Of course, we also work with many Arlington customers who simply want car paint repair. If your vehicle has been damaged because of a major or minor accident, storm, or simply years of being left out in the sunshine, we have a solution for you. If you have an insurance claim because of an accident or another incident, you should know that we can work with auto insurers to maximize your benefits too. You won't need to hassle with insurance claims forms or adjusters because we'll deal with the paperwork.
Vehicles represent a sizable investment for most of our customers, and we want you to take pride in your auto's appearance. One of the best things you can do to improve that appearance is to touch up scratches, dings, and fading paint. Depending upon the condition of your vehicle, we can do touch ups, paint over scratches, or paint the entire body. Our professional paint techs can match the original color or mix up an entirely new one. It's all up to you.
After we finish, your car will look as good as new, and in some cases, it might even look better. Car paint repair can enhance your vehicle's value, and it will certainly allow you to take pride in your clean and shiny automobile once more.
Car Paint Scratch Repair
Getting that first scratch on a new car can be a frustrating experience. You also probably know how much the appearance of your vehicle can affect its value. However, you don't have to live with paint scratches when you visit us for car paint scratch repair in Arlington, TX.
Our auto painting pros know exactly how to match the factory color and refinish your auto body to make it shine like it did the first day that you drove it off the lot. We can paint metal and fiberglass auto bodies.
You might visit us for car paint scratch repair if you simply want to improve the appearance of your vehicle. Some of our customers also choose to have these kinds of repairs made before they sell a used car to improve its appeal to buyers. Others decide to have scratches fixed before they turn in a leased car to avoid penalties. It doesn't matter why you choose to have auto scratches painted over. What does matter is that our paint techs will maximize the value and appearance of your vehicle.
Call Us for Auto Paint Jobs
Get started with auto scratch repair or custom paint jobs today by contacting us by phone or email. If you're close to our Arlington shop, you welcome to drive your vehicle in too. We can provide you with a professional paint job, great service, and transparent pricing.