Paintless Dent Repair in Arlington, Texas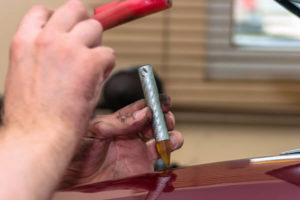 Our paintless dent repair in Arlington, TX can remove dents and dings quickly and inexpensively. Contact us for an estimate.
Paintless Dent Repair (PDR)
We offer paintless dent repair in Arlington, TX to many of our customers. If your vehicle has suffered from hail damage, other dings or dents, or even some large creases, we may be able to use paintless dent repair to totally erase the damage. If a minor scrape, storm, stone, or other mishap has dented or creased your car's frame and left the paint intact, paintless dent repair may offer you the most affordable option for a quick repair at an affordable price.
At City Collision Center, we employ trained PDR techs. These professional dent repairers use sophisticated tools and methods to virtually erase many kinds of damage from steel or aluminum body parts. Since the process pulls or pushes the frame back into shape, there may be no need to repaint. Why not contact us today to find out if paintless dent repair is the right answer to fix your vehicle's damage?
What is Paintless Dent Repair (PDR)?
You may have also heard paintless dent repair called paintless dent removal or PDR. Trained technicians use special tools that can push or pull metal body parts back into shape without harming the vehicle's existing finish. This solution is often used for repairing damage from hailstorms and minor mishaps. In some cases, PDR can even erase large dents and creases. PDR works on metal frames, such as those made from aluminum or steel.
Dent Repair & Removal
For dent repair and removal, we might suggest PDR for these kinds of dents:
Round dents: Hail, small stones, and other round objects may cause small, round dents.
Dings: If your car has suffered a ding because of a low-speed collision with another car or even a shopping cart, PDR may offer the perfect solution.
Creases: If your sheet metal or panels are bent because of an impact, we still might be able to repair it with paintless dent removal.
Is PDR the right answer for your auto's damage? Typically, the condition of the paint and the length and location of the damage will determine if PDR is the right solution. For instance, a dent that is too deep might have stretched the metal too much for a quick repair. In addition, dents on the very edge of body panels might require a different solution. Finally, the damaged portion will need repainting if there is any damage to the paint.
Car Dent Repair
If your vehicle has suffered a minor ding or major damage, you can count on us for car dent repair and other auto body restoration work. Many of our long-time customers consider us a one-stop shop for all auto body and mechanical needs. Our I-Car certified technicians will suggest the right solution for the kind of problem that you have.
We will also work with you and your insurance company to offer the most efficient and high-quality solution possible. In some cases, paintless dent removal might not be possible, so we'll have to suggest a better method to repair more serious damage in a durable and safe way.
You can always count on us for transparent price estimates and professional service. We know you just want your car restored to service in the safest and most efficient way possible. In addition to car dent repair, we also offer a full-service auto body shop, auto glass repair and replacement, and mechanical car repairs. You won't need to send your car to different shops when you work with us.
To get started, why don't you contact us for a free estimate by phoning our shop or filling out our online contact form. If you prefer, you're also welcome to bring your vehicle directly by our shop to learn about car dent repair and other services that we provide. We're eager to offer you the same high-quality services, parts, and products that have kept us in business for over 10 years.