Auto Paint Shop in Arlington, TX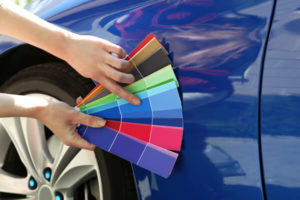 Visit our auto paint shop in Arlington, TX for custom paint jobs, restoration, and paintless dent repair. We work on insurance claims and give free estimates too.
At City Collision Center, we have a solid reputation as a high-quality auto paint shop in Arlington, TX. Our complete line of auto body painting services includes restoration paint jobs, touch-ups, custom paint jobs, and paintless dent repair. Our trained and experienced paint technicians care about your valuable vehicle and your satisfaction.
Why rely on us here at City Collision Center for auto body paint? You can contact us at any time for upfront estimates. We also work with many car insurance companies on claims. We offer lifetime warranties for restoration work. You can rest assured that we will provide you with high-quality work that will last and fair, transparent prices. Most of all, we have the experience and supplies to give your vehicle a professional look that you can be proud of.
Let us know if you want to restore an older car, repair damage from a storm or accident, or create an entirely new look. You can rest assured that your vehicle will look great, and we will make the process as easy as possible for you. We employ trained paint technicians and have developed a solid reputation after over 10 years of serving customers in the Arlington and DFW Metro Area. We've thrived in business so long by meeting and exceeding our customer's highest expectations.
Paintless Dent Repair
One of the most popular services here at City Collision Center is our paintless dent repair. Sometimes this service is also called paintless dent removal or for short, PDR. If the paint on your auto's metal panels is still intact, our technicians may be able to smooth out dents and dings using special tools. We can use PDR on many kinds of metal auto body parts, including steel and aluminum.
We commonly use PDR to repair hail damage and other kinds of creases or dents. Our PDR technicians use sophisticated tools to push or pull dents out from the inside or outside of the metal surface. The tools and methods they use won't scratch your finish, so if your paint is still intact, you won't need an additional paint job.
The process is relatively quick, so we may be able to save you time and money if we can perform paintless dent repair on your vehicle. If your car has a few dings from hail, minor accidents, or typical wear, why not stop by to let us restore its value and showroom appearance with PDR? You might be surprised by how fast and affordable this type of repair can be.
Custom Auto Paint
Customers also frequently stop by to request custom paint jobs for their new, used, or classic cars. Custom paint jobs give vehicle owners a way to express their own unique style, promote a business brand, or to make their vehicle stand out at an auto show. We can perform both small and large custom paint jobs. Speak with us about everything from pinstripes to custom works of auto body art.
Depending upon the type of custom paint job that you require, our creative technicians may select different applications and kinds of paint. Of course, the price depends upon your requirements. Different kinds of paint jobs require different supplies, skill levels, and amounts of time to complete. If you would like to have a custom paint job done on your auto, van, truck, or motorcycle, you can always ask us to estimate the price and time we need.
Contact Our Auto Paint Shop in Arlington, TX
Do you need your car painted or paintless dent repair to restore your vehicle's value and appearance? If so, contact us today for an estimate. You can either call (817) 303-7467 or use the email form on this page. If you'd prefer, you may also stop by to let us see your vehicle. We can restore your auto's original appearance or help you create something truly unique.