Hail Damage Auto Repair in Arlington, TX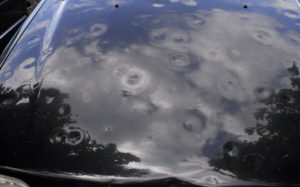 We perform hail damage auto repair in Arlington, TX with paintless dent repair, a quick and affordable process. Insurance claims accepted.
Hail Damage and Insurance Companies
Here in Arlington, TX and all of North Texas, we get our share of hailstorms. Large hail can dent auto body parts and pit or shatter glass. Though minor hail damage may not affect the usability of your vehicle, it can certainly cause an unsightly mess and reduce your car's value. At City Collision Center, we understand hail damage and insurance companies. We want to restore your vehicle and make the insurance claims process as easy on you as possible.
If your vehicle has suffered dings, dents, or broken glass because of a hailstorm, you should contact us here at City Collision Center for repairs right away. We can replace or repair glass, and we can certainly erase auto body dents with paintless dent repair and other solutions. Ask us for a quick price quote today. When you speak with us, let us know which type of insurance coverage you have and your policy details, and then let us handle the rest of the claim. If you don't have insurance coverage in the event of a hail storm and plan to pay out of your own pocket, we'll still offer you a free estimate.
Hail Damage & Types of Auto Insurance Coverage
To understand how auto insurance covers hail damage, it helps to understand different types of car insurance you might have in your policy:
Every Texan needs liability insurance to operate their car legally. That kind of coverage pays for damage to the other party in an accident if the accident is your fault.
Collision insurance covers collision damage to your own vehicle when there is no other party's liability insurance to cover it. If the accident is your fault, your collision insurance covers accident damage to your car.
Comprehensive auto insurance covers non-accident damage to your vehicle. Of course, this includes body damage caused by hailstorms. If you don't have comprehensive auto insurance included in your policy, you may have to pay for repairs out of your own pocket.
If you have your car covered with comprehensive insurance, we can work with most auto insurance companies to make the claims process simple for you. If you don't, we can still offer you free price quotes and the most affordable solutions to get high-quality repairs done.
How Hail Damage is Repaired
In most cases, hail causes round dings in auto bodies. Very often, a method called paintless dent repair can erase this damage. Paintless dent repair, usually called PDR, involves pushing or pulling out the dings with special tools. If the paint hasn't been compromised, there's no need for your car to be repainted. Our PDR techs are experts at using the right methods and tools to restore your vehicle after hail damage.
In a few cases, PDR won't work:
If the dings are too deep or in certain positions on metal body panels, the metal might have been compromised. In that case, we might tell you that we can't use PDR and must suggest another solution. For example, we might rarely have to replace and repaint a panel because of excessive damage.
If large hailstorms did compromise your car's finish, we might also offer a touch-up or conventional paint job. Our paint techs are experts at matching factory or custom paint jobs, so your car will still look new and shiny when we finish.
At all times, we focus on the quality of our work and value and durability of our repairs. We'll offer you the quickest and most affordable solution for your vehicle's type of damage. In the case of hail, that solution will usually be PDR, but it might not be.
We can repair or replace auto body parts and glass that have been damaged by hailstorms. Contact us today for a free estimate and to ask about how we can help you make an insurance claim. We want to restore the value and appearance of your vehicle. We offer lifetime warranties on our restoration work too.