Classic Car Restoration in Arlington, Texas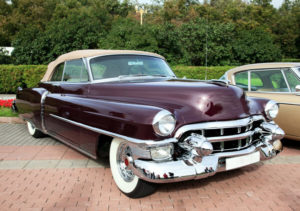 For classic car restoration in Arlington, TX, count on the auto restoration professionals at City Collision Center. Custom paint jobs, fiberglass bodies, and more.
At City Collision Center, we share your passion for the restoration of classic cars. Our full-service body and mechanical shop can handle engine work and interior and exterior restoration in our Arlington, TX classic car restoration shop. We've served many satisfied customers over 10 years of operation, and we hope to serve you. We can offer you interior, exterior, and mechanical restoration services for classic cars.
We focus on the appearance, functionality, and safety of your vehicle. Within those constraints, we will always work with you to achieve your vision. Contact us today to let us know about your classic vehicle restoration project because we want to help. Our main goal is to provide you with a beautiful, safe, and functional vehicle within your budget. After you work with us, you'll be proud to show off your classic car at an auto show or drive it through your neighborhood.
Exterior Car Restorations
Depending upon the condition of your vehicle, exterior restorations may take different forms. For instance, we may be able to repair frames and panels of older and damaged vehicles. In some cases, we may advise you that it will be safer or cheaper to purchase a new frame and panels from a classic car parts supplier. We can repair almost anything, but it some cases, replacements are more practical.
Some of our customers have concerns about budgets; however, other customers prioritize authenticity. In either case, we plan to work with you to produce the best possible result. Just let us know what you want, tell us about your priorities, and give us a chance to tell us how we can work with you. Similarly, our mechanical shop can do the same whether you are after a new engine or transmission. They can order these online from Sir Car Part for example, a used car part dealer. These prices will be substantially lower than shopping for new, and subsequently more affordable for you whatever your budget may be.
We can also repair rust and other damage, and we can replace damaged panels. In either case, we work with both metal and fiberglass core materials for auto body parts. Our full-service paint shop can match original paint, create a custom paint job, or paint the car to resemble some vehicle that you specify. We know that the exterior restoration of classic cars is both an art and a science, and we employ techs with the talent and know-how to master both.
Interior Auto Restorations
As with exterior restorations, our suggestions for interior restorations may depend upon the condition of the vehicle and your priorities. Some customers prioritize using original interior parts as much as possible, but others don't mind finding new replacements that resemble the originals or even create an entirely different look.
For example, we must replace things like rusted seat coils before we can repair upholstery. In some cases, we may be able to repair the original interior. For example, our techs can sometimes simply repair or recolor leather seats, steering wheels, trim, and so on. You'll be amazed how well we can transform old and worn parts into an interior that looks like it just left the showroom.
In other situations, we may need to match the original interior with new products that have been fabricated to look and feel like the originals. Very often, these modern products retain the look of the vintage products, but they are much more durable and functional. Just let us know what is important to you, and we'll tell you what we can do.
Talk to Us Today About Classic Car Auto Restoration
Most of all, we want to let you know that our classic car restoration shop has over a decade of experience and many satisfied customers. At the same time, we keep up with the most modern restoration and replacement technology. Contact us today by phone or email for a free estimate or to schedule a convenient time to bring your classic car by our shop.
We're eager to restore your classic car and work with you on your own unique vision. Repairing, repainting, and restoring cars is our business, but working on classic cars is our passion. We hope to share that passion with you.