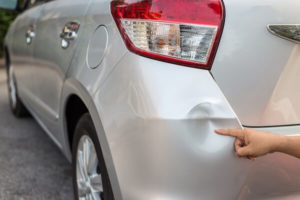 Dent repairs are often expensive, time-consuming, and a general nightmare for car owners. Every time you get caught in a hailstorm or can't stop a rogue shopping cart, you're faced with the dilemma of whether or not the repair is worth the investment. Before you give into despair, you might want to learn about paintless dent repair. It's a friendly way to fix your vehicle with much less stress on you and your wallet.
What Is Paintless Dent Repair?
Paintless dent repair (PDR) is a non-invasive approach to removing cosmetic dents from the metal surface of a car. The term "paintless" is the key. It is a viable approach to dents that don't show damage to the paint layer. In those cases, PDR can be performed on steel and aluminum bodies. A few other factors that might prevent a PDR are creases in the metal and dents that are large or deep enough to threaten the strength of the metal.
Because PDR focusses on cosmetic dents and doesn't require repainting, it is substantially faster and less expensive than other dent repairs. In many cases, you can have the repair done with same-day turnaround. Some companies will even come to your car and do a mobile repair. As appealing as it is, it often requires the assessment of a professional eye to determine if PDR could fix your dents.
How Does Paintless Dent Repair Work?
Understanding how and why PDRs are so fast and inexpensive is easy when you learn the basic process. At the risk of oversimplifying, a PDR involves merely popping out a dent. The specific tools and methods involved will vary with the type of dent, its severity and its location on the vehicle. Usually, professionals will remove paneling or other components to access the underside of the sheet metal. Once they do, they will use some shaping tools to gently massage the metal and return it to its original shape.
It's important to note that PDR typically does not address damage to the metal. Restoring the original shape does return some of the protective integrity, but it has limits. Dents in metal stretch the material and weaken it. The longer a dent is left unattended, the worse this weakening becomes. Because of this, a spot repaired by PDR will be prone to worse dents in the future. That's one of the reasons you want a professional to determine if it's the best method or not. A small hail ding is a better candidate for PDR than a large concavity from being t-boned.
Deciding what to do with dings to your car can be frustrating, but you can always get a quick consultation to see if PDR is an option. When it is, you'll often find that it is relatively painless regarding costs and times, and it will ultimately improve the value of your vehicle and give it a little more strength against additional body damage.